Knee Replacement Surgery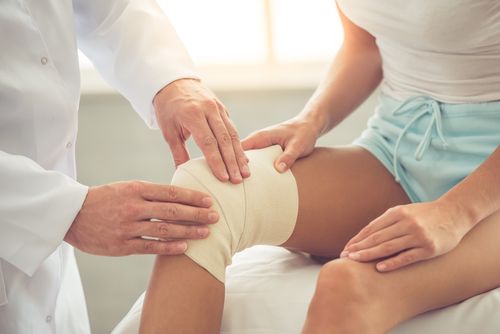 Knee replacement surgery can repair the damaged, weight-bearing surfaces causing you pain. The surgery typically involves replacing some, or all, of the components of the knee joint with a synthetic implant. There are different types of knee replacements:
Total knee replacement surgery: replaces all three compartments of the diseased knee joint.
Partial knee replacement surgery: involves an implant in just one or two compartments of the knee, retaining any undamaged parts.
While surgical and non-surgical interventions can provide temporary relief without replacing the knee, the long-term resolution for most knee degeneration is joint replacement.
Risks
The risks and complications for knee replacement surgeries are similar to those associated with other types of joint replacements. Joint infection is the most serious complication, which occurs in less than 1% of patients; infections can be related to patient and/or surgical factors. About 15% of patients suffer from deep vein thrombosis as a result of surgery, and nerve injury occurs in about 1-2% of patients. Another 8-23% of patients will suffer from persistent pain, and prosthesis failure occurs in approximately 2% of patients at 5 years.
Obese people who undergo total knee replacement are at an increased risk. The morbidly obese should be advised to lose weight before surgery and, if medically eligible, would probably benefit from bariatric surgery as well.
Another risk to be aware of is fracturing or chipping of the polyethylene platform between the femoral and tibial components. If these fragments become lodged in the knee they will create pain; they may even move to other parts of the body. Advancements in implant design have greatly reduced these issues, but the potential for concern is still present over the lifespan of the knee replacement.
Recovery
Depending on the course of recovery, most patients will remain in the hospital for three to four days after surgery. The day after your surgery, a physical therapist will teach you exercises to regain full leg and knee movement. During your hospital stay, you'll attend physical therapy one to two times a day.
To aid in your recovery, the doctor may recommend a continuous passive motion (CPM) machine to assist in bending and straightening your knee. Special elastic stockings may be provided to help reduce swelling, and an anticoagulant medication may be administered to prevent blood clots and help with overall circulation.
After the knee replacement, some physicians may consider lower limbs venous ultrasonography to screen for deep vein thrombosis. However, this kind of screening should be done only when indicated, as performing it routinely is considered unnecessary health care. If a medical condition that could cause deep vein thrombosis exists, the physician can use cryotherapy and intermittent pneumatic compression treatments as a preventive measure.
With 718,000 hospitalizations, knee arthroplasty accounted for 4.6% of all United States operating room procedures in 2011—making it one of the most common procedures performed during hospital stays. Between 2001 and 2011, the number of knee arthroplasty procedures performed in U.S. hospitals increased by 93%. By 2030, the demand for primary total knee arthroplasty is projected to increase to 3.48 million annual surgeries in the U.S.
If you are suffering after a knee replacement surgery, do not hesitate to contact our team of litigation lawyers at the Johnson Law Group. Your first consultation is free!
Posted By
Johnston Law Group
Categories: